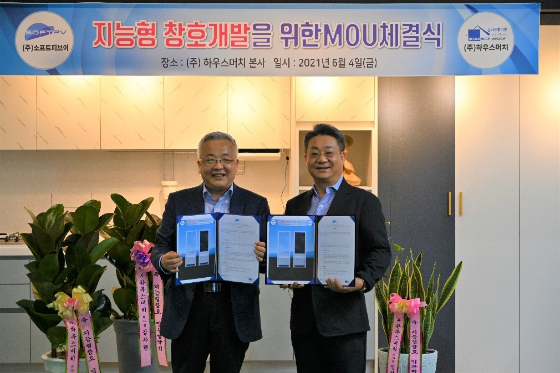 SOFTPV (CEO Ahn Hyeon-woo), a self-powered electronic device development company, and HOUSEMUCH (CEO Yang Kyung-guk), a window specialist, signed an MOU (Memorandum of Understanding) for the development of intelligent windows.
SOFTPV is the first company in the industry to develop a three-dimensional bead-shaped SMD (Surface Mount Device) type ultra-small solar cell 'SOFTCELL®'. It also won the Innovation Award at this year's International Electronics Show (CES).
HouseMutch is a window-specialized B2C (business-to-consumer) company with a nationwide branch network and facilities in all areas including manufacturing, distribution, and construction.
According to this MOU, SoftPV decided to manufacture and supply 'Soft Goods®', a module in the form of a strip, to HouseMuch. 'Soft Goods®' refers to the ultra-small solar cell 'Soft Cell®', LED (light emitting diode), sensor, Bluetooth electronic components, etc. mounted on the transparent film 'Softform®' for electric circuits. When this is attached to the electrochromic glass, it blocks UV rays and the external dust condition can be checked with the LED color.
"We will complete the development of intelligent windows within this year by receiving Soft Goods® and electrochromic glass from SOFTPV," a HouseMurch official said. "We will launch it in the first half of 2022 and target the domestic high-end market."
https://news.mt.co.kr/mtview.php?no=2021060817575942349